VBCH Wins Top Workplace Award!
posted on 9/15/23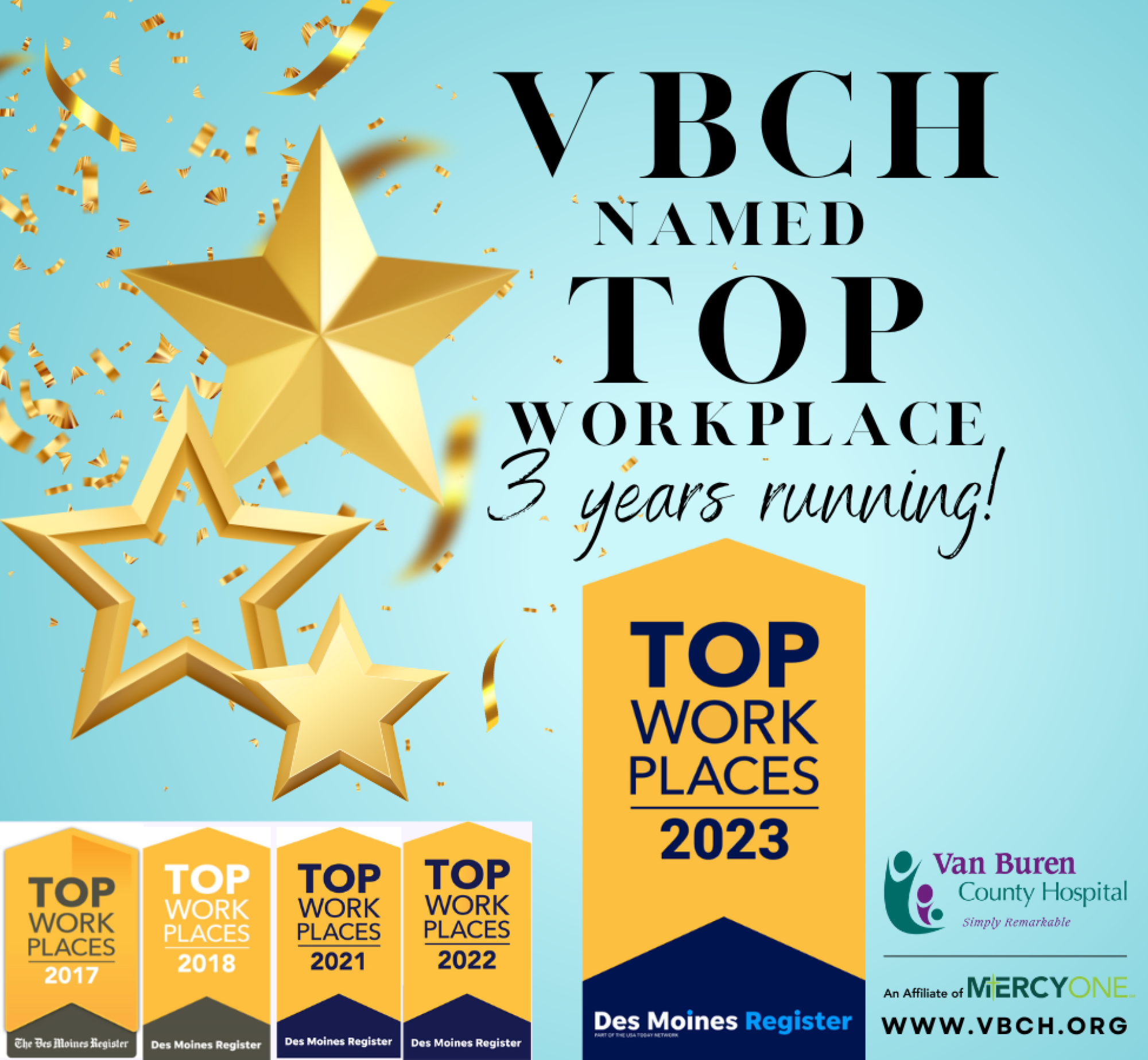 DES MOINES REGISTER NAMES VAN BUREN COUNTY HOSPITAL & CLINICS
A WINNER OF THE IOWA TOP WORKPLACES 2023 AWARD
September 14, 2023 - Van Buren County Hospital & Clinics has been awarded a Top Workplaces 2023 honor by Iowa Top Workplaces. The list is based solely on employee feedback gathered through a third-party survey administered by employee engagement technology partner Energage LLC. The confidential survey uniquely measures 15 culture drivers that are critical to the success of any organization: including alignment, execution, and connection, just to name a few.
"Earning a Top Workplaces award is a badge of honor for companies, especially because it comes authentically from their employees," said Eric Rubino, Energage CEO. "That's something to be proud of. In today's market, leaders must ensure they're allowing employees to have a voice and be heard. That's paramount. Top Workplaces do this, and it pays dividends."
We are excited to again be named as one of the Top Workplaces for 2023!
Van Buren County Hospital had previously been recognized for this award in 2022, 2021 as well as in 2017 & 2018. "It is an honor to be recognized as a top workplace for the last three consecutive years. It is reflective of the great team we have at VBCH which also translates to patient care and experience. A culture of excellence is not built overnight but by consistently making small improvements every day. I think this recognition highlights the continuous improvement that our staff is committed to at VBCH" states CEO Garen Carpenter.
About
Van Buren County Hospital and Clinics provides individualized health care in a compassionate and caring manner. They are committed to providing Simply Remarkable care to not only their patients, but also to their fellow staff members.
You can learn more about all of the services available at Van Buren County Hospital by visiting their newly remodeled website at www.vbch.org.
Want to come work for us?
We have positions available, you can find them on our website by clicking on the "employment" button in the top right corner.
More News
posted 9/15/23
DES MOINES REGISTER NAMES VAN BUREN COUNTY HOSPITAL & CLINICS A WINNER OF THE IOWA TOP WORKPLACES 2023 AWARD
posted 9/10/23
THANK YOU!
posted 8/29/23
The Southeast Iowa Complex Care Network is pleased to announce that it has been awarded a generous grant from Iowa's Centers of Excellence Program, totaling $250,000 per year for three years.
posted 8/17/23
Van Buren County Hospital will host a Town Hall Community Health Needs Assessment (CHNA) luncheon on Thursday September 28th.
posted 8/3/23
Today, Gov. Kim Reynolds and the Iowa Department of Health and Human Services announced the awardees of Iowa's Centers of Excellence Program grant totaling more than $2.2 million in funding to support and improve health care delivery in rural Iowa.