VBCH Welcomes Dr. Harthoorn
posted on 11/5/23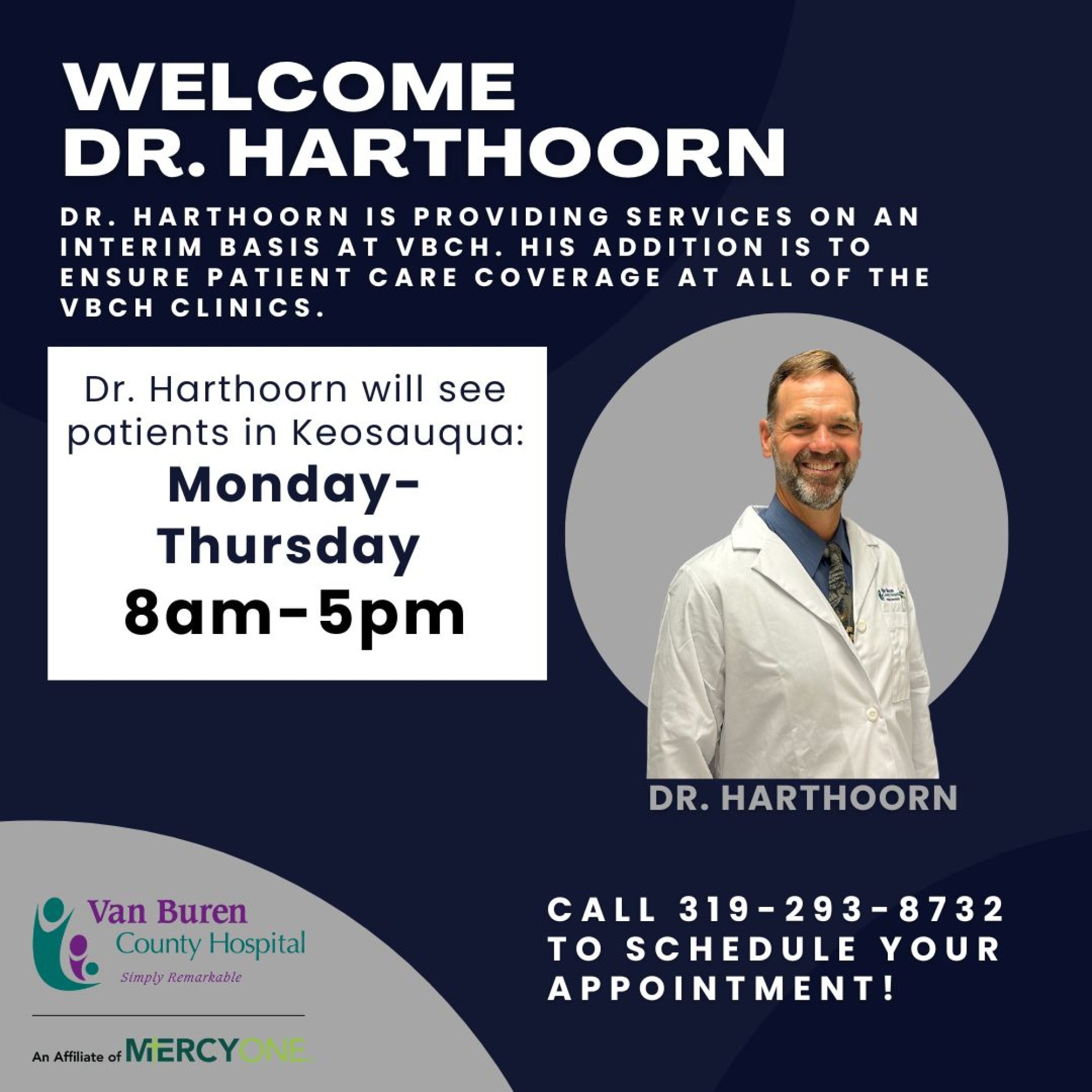 Van Buren County Hospital would like to welcome Dr. Corey Harthoorn to VBCH and Van Buren County. Dr. Harthoorn will be providing interim Family Medicine services in our Keosauqua Clinic. In order to ensure patient care at all of our clinics, Dr. Harthoorn will be seeing patients Monday through Thursday.
Dr. Corey Harthoorn is grateful for the opportunity to treat patients of all ages at the Keosauqua Medical Clinic for the next few months. He is originally from Orange City, Iowa, and went to medical school at the University of Iowa. After completing Family Medicine residency in Mason City, he and his family moved to Norfolk, Nebraska. From 2004 until 2013, he served as a missionary doctor in Malawi, Africa. The family then returned to Norfolk, where he and his wife Sharon still live. They have 4 children who are all married.
Please welcome Dr. Harthoorn to VBCH if you see him. To schedule an appointment with Dr. Harthoorn you can call the direct scheduling line at 319-293-8732.
More News
posted 12/5/23
Van Buren County Hospital & Medical Clinics would like to welcome Dianne Knapp, ARNP.
posted 11/5/23
Van Buren County Hospital would like to welcome Dr. Corey Harthoorn
posted 10/23/23
The American Cancer Society National Lung Cancer Roundtable (ACS NLCRT), American College of Radiology® (ACR), and Radiology Health Equity Coalition (RHEC) have partnered once again for the second annual National Lung Cancer Screening Day ("National LCS Day") on Saturday, November 11, 2023.
posted 9/15/23
DES MOINES REGISTER NAMES VAN BUREN COUNTY HOSPITAL & CLINICS A WINNER OF THE IOWA TOP WORKPLACES 2023 AWARD
posted 9/10/23
THANK YOU!