Van Buren County Hospital Selected for Iowa United First Aid Pilot Program
posted on 5/25/23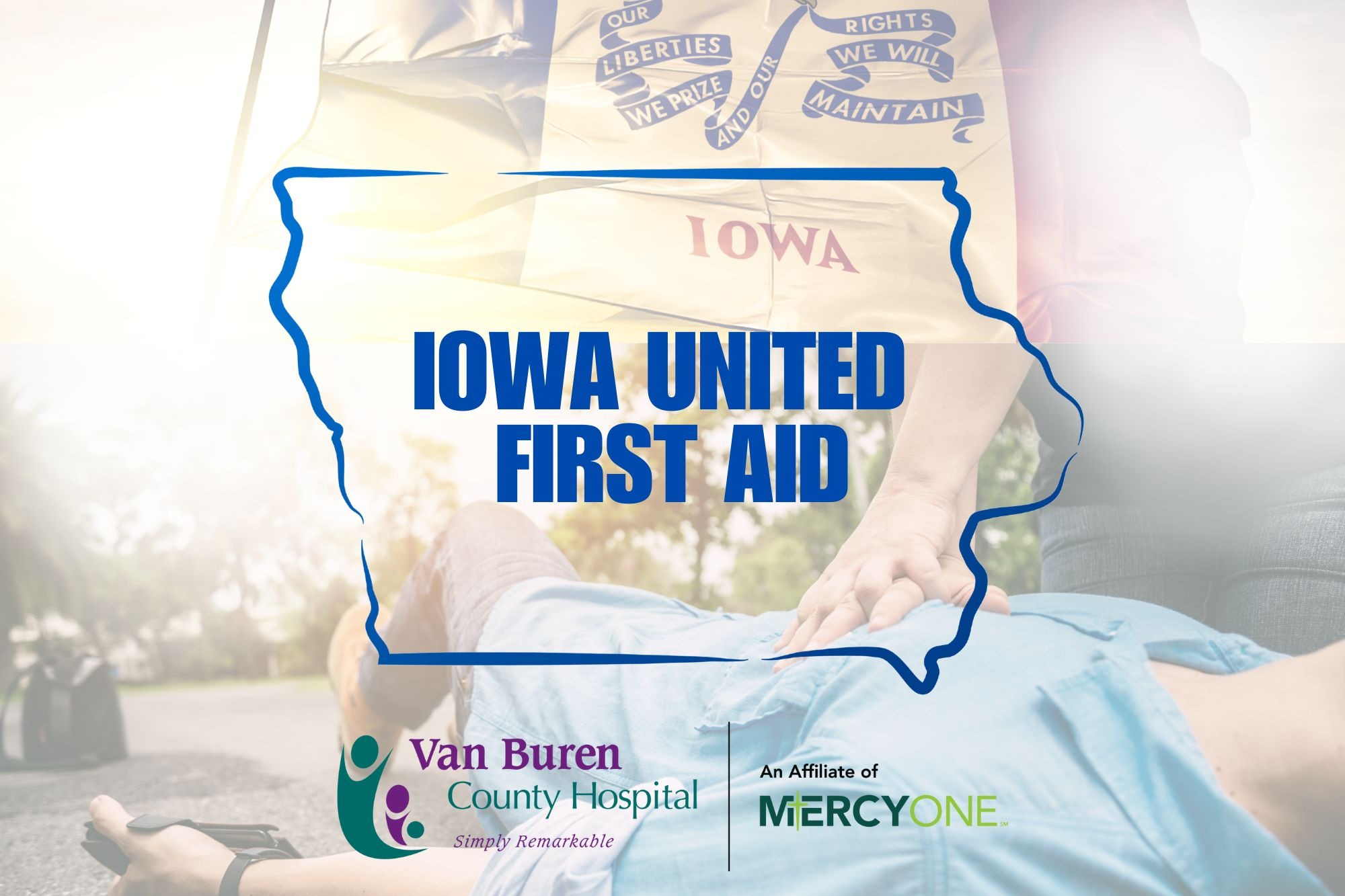 KEOSAUQUA- Van Buren County Hospital is very pleased to have been selected to participate in the Iowa United First Aid pilot program. This opportunity was made possible because of the support of the Van Buren County Supervisors and the match funding that they have provided to purchase a portion of the needed equipment and supplies. We are thankful that the supervisors and County EMA Coordinator, Max Harlan, have the vision to see what a wonderful impact this program could have on the county.
Hospital staff would also like to express their thanks to all of the people that came out and listened to the Lt. Governor's initial presentation about the program, and to all of the city councils that provided letters of support. Selection for participation in the program was made through a competitive grant process, and the demonstration of community support was a crucial part of the application.
The next step will be selecting volunteers to receive the first aid training and participate in the program. If you filled out the hospital's initial interest survey, a staff member from the hospital will be contacting you soon. For those who would now like to explore volunteering for the program, the interest survey is back up on the hospital's website and Facebook page and will remain open through the month of June.
Initial volunteer selection will take place in July and volunteer training will begin in August. It is estimated that the initial training will take approximately 16 hours. The hospital will prioritize training according to geographic areas of high need within the county, as well as the weekly availability of interested volunteers.
If you have any questions about the program, please reach out to William Cline, william.cline@vbch.org or 319-293-8709, or Ashley Moyer, ashley.moyer@vbch.org or 319-293-8747. If you are interested in becoming a volunteer responder in Van Bure County please click here: Volunteer First Responder Interest Form
See full press release below from Governor Reynolds.
Gov. Reynolds, Lt. Gov. Gregg announce grant awards to launch Iowa United First Aid pilot program in three counties
DES MOINES – Governor Kim Reynolds, Lt. Governor Adam Gregg, and the Iowa Economic Development Authority announced that three $50,000 grants have been awarded to Calhoun County Public Health, Cass County Board of Health, and Van Buren County Hospital to test an innovative program aimed at decreasing emergency response times in rural Iowa. The total grant funding of $150,000 was made available through the Governor's Empower Rural Iowa Initiative.
The program, called Iowa United First Aid, is a model that was adapted from the Israeli nonprofit United Hatzalah (which translates to "United Rescue"). The Israeli model uses technology to crowdsource nearby volunteer emergency responders and has driven response times down to an average of ninety seconds in cities like Jerusalem and Tel Aviv, and to three minutes on average across the country.
In Iowa, the program will equip trained volunteers with an app on their phone that delivers 911 dispatch alerts when an emergency occurs in their vicinity. Volunteers will be trained and supplied with the materials and equipment necessary to perform first aid, bleeding control, CPR, and use of an automated external defibrillator (AED). The goal is for volunteers to quickly respond to emergencies in nearby areas and stabilize victims while an ambulance is on the way, decreasing the amount of time it takes to receive lifesaving assistance.
"I'm proud that the Governor's Empower Rural Iowa Initiative created the Iowa United First Aid program," said Governor Reynolds. "This is what the initiative was intended to do – seek innovative ways to impact the quality of rural life in our state. Iowans deeply value service to their communities and their neighbors, and I believe this program and its volunteers will make a tremendous difference in improving access to emergency services in rural communities and saving lives."
"This model holds real promise in using technology and innovation to solve a serious challenge facing our rural communities," said Lt. Governor Gregg. "I appreciate and commend the applicants who have stepped up to lead the way."
Applicants were required to provide a minimum $25,000 local match for the grant, for at least $75,000 in total funding to support this program. While costs vary, it is estimated that this amount can support training and equipping a minimum of 25 volunteers in each county. Additionally, the Iowa Rural Development Council has provided grant funds which will assist in the purchase of first aid supply bags, equipment, and safety identification vests for volunteers. The technology has been donated by NowForce and PulsePoint for the program's pilot year.
For more information on Iowa United First Aid and other Governor's Empower Rural Iowa Initiative programs, visit iowaeda.com/empower-rural-iowa.
More News
posted 12/5/23
Van Buren County Hospital & Medical Clinics would like to welcome Dianne Knapp, ARNP.
posted 11/5/23
Van Buren County Hospital would like to welcome Dr. Corey Harthoorn
posted 10/23/23
The American Cancer Society National Lung Cancer Roundtable (ACS NLCRT), American College of Radiology® (ACR), and Radiology Health Equity Coalition (RHEC) have partnered once again for the second annual National Lung Cancer Screening Day ("National LCS Day") on Saturday, November 11, 2023.
posted 9/15/23
DES MOINES REGISTER NAMES VAN BUREN COUNTY HOSPITAL & CLINICS A WINNER OF THE IOWA TOP WORKPLACES 2023 AWARD
posted 9/10/23
THANK YOU!