VBCH staff are holding a Food Drive
posted on 11/16/22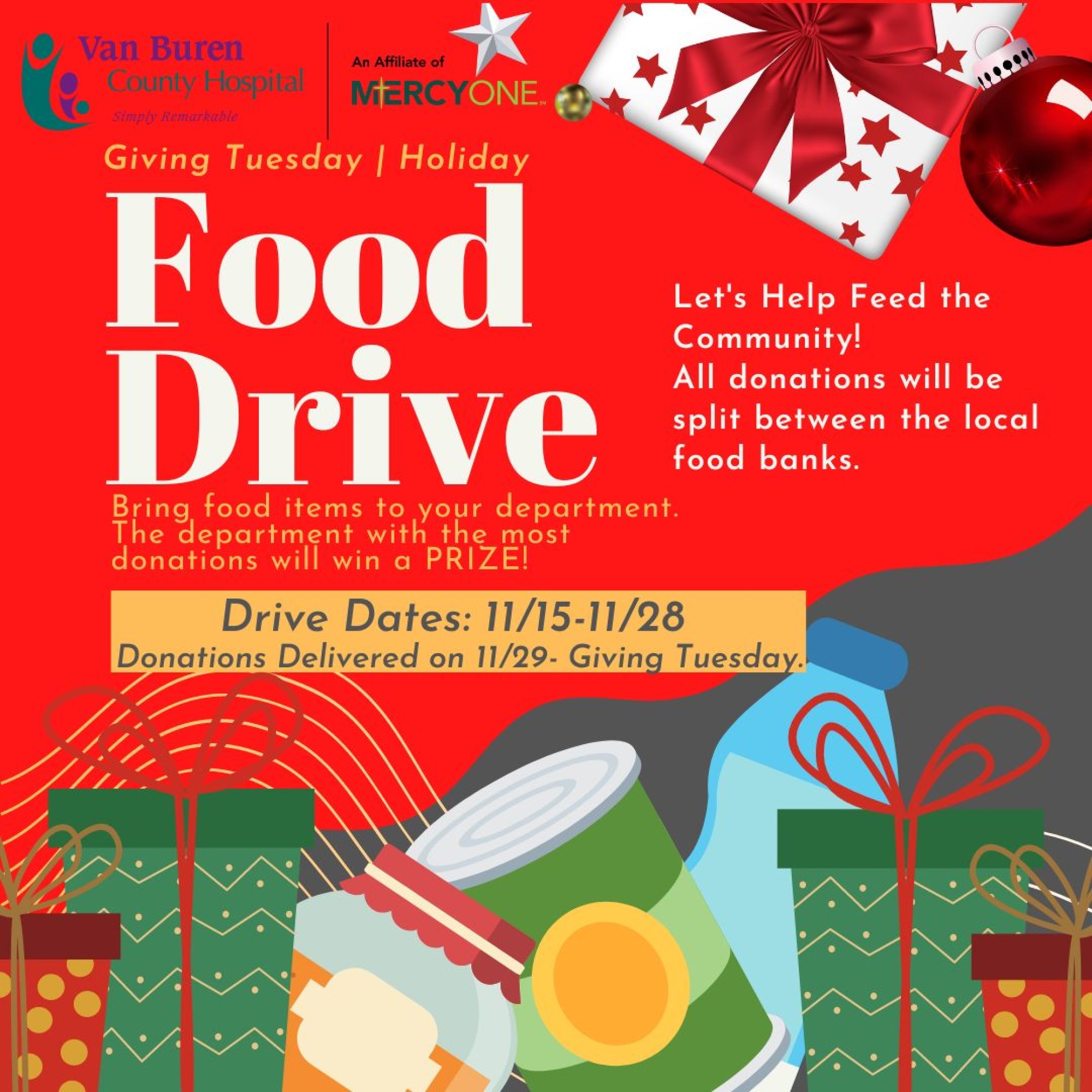 This year VBCH has decided to do a number of things to give back to our community, these include: volunteer efforts at events, donations to local organizations, raising $$ for different causes, and more!
During this holiday season we want to give all of our staff members an opportunity to get involved and give back so we are holding a food drive for the next two weeks.
Please bring non-perishable food items to help stock our local food pantries this holiday season!
We will be holding a Department Contest for the Department that contributes the most items. There will be a prize for the staff of the winning department!
(We will calculate the winning department by totaling number of items and dividing it by number of staff in that department in order to keep it fair)
The drive will run between now and 11/28 and all items will be distributed to the 3 local food banks on Giving Tuesday 11/29.
Commuinity members are welcome to participate and we have a food drive box in our front lobby for these donations!
Thanks for supporting the needs in our community this holiday season!
More News
posted 9/15/23
DES MOINES REGISTER NAMES VAN BUREN COUNTY HOSPITAL & CLINICS A WINNER OF THE IOWA TOP WORKPLACES 2023 AWARD
posted 9/10/23
THANK YOU!
posted 8/29/23
The Southeast Iowa Complex Care Network is pleased to announce that it has been awarded a generous grant from Iowa's Centers of Excellence Program, totaling $250,000 per year for three years.
posted 8/17/23
Van Buren County Hospital will host a Town Hall Community Health Needs Assessment (CHNA) luncheon on Thursday September 28th.
posted 8/3/23
Today, Gov. Kim Reynolds and the Iowa Department of Health and Human Services announced the awardees of Iowa's Centers of Excellence Program grant totaling more than $2.2 million in funding to support and improve health care delivery in rural Iowa.