Congratulations- Own It- Award Recipient- Lynndsey Moore!
posted on 3/27/23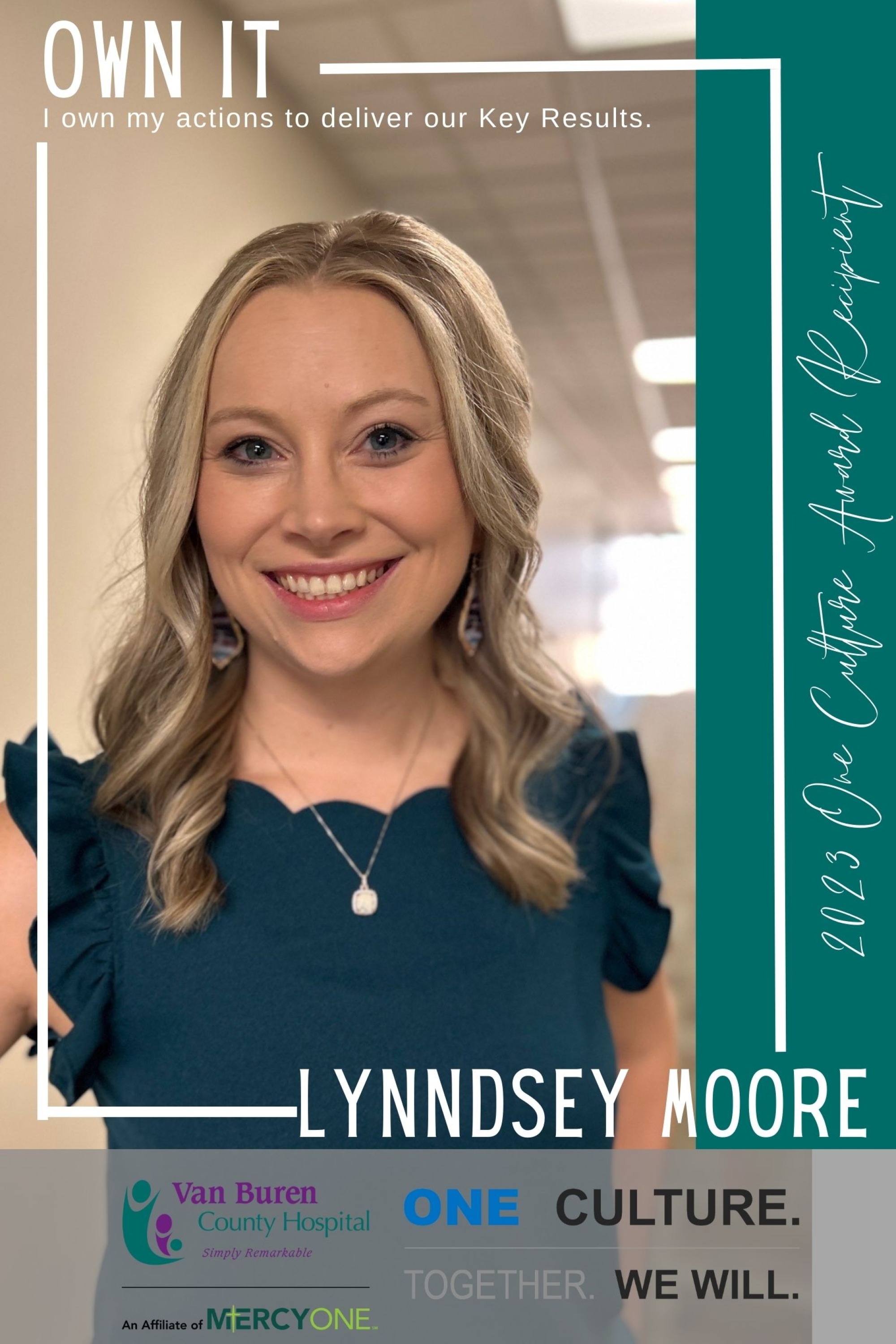 CONGRATULATIONS!
VBCH's 2023 One Culture Awards were presented on March 18th.
Five Deserving VBCH staff members were recognized for their commitment to One Culture.
This week we want to share a little about each our award recipients.
Own It- Award Recipient- Lynndsey Moore
An excerpt from one of her nominations:
"Lynndsey is always problem-solving with those around her. She never looks at a complaint or issue or situation and thinks that there isn't an answer. She brainstorms ways to solve problems. I have watched her lead meetings where she asks for other inputs but is quick to shut down if the momentum changes to Blaming Complaining or Defending. She is always willing to seek help on situations that warrant another viewpoint or opinion. She is not afraid to be honest and direct when the situation calls for it."
Congratulations Lynndsey on your award.
More News
posted 12/5/23
Van Buren County Hospital & Medical Clinics would like to welcome Dianne Knapp, ARNP.
posted 11/5/23
Van Buren County Hospital would like to welcome Dr. Corey Harthoorn
posted 10/23/23
The American Cancer Society National Lung Cancer Roundtable (ACS NLCRT), American College of Radiology® (ACR), and Radiology Health Equity Coalition (RHEC) have partnered once again for the second annual National Lung Cancer Screening Day ("National LCS Day") on Saturday, November 11, 2023.
posted 9/15/23
DES MOINES REGISTER NAMES VAN BUREN COUNTY HOSPITAL & CLINICS A WINNER OF THE IOWA TOP WORKPLACES 2023 AWARD
posted 9/10/23
THANK YOU!