Senior Health Insurance Info Program
Choosing Medicare and related health care coverage can be challenging. VBCH is here to help free of charge.
SHIIP, Senior Health Insurance Information Program, offers confidential, one-on-one counseling throughout Iowa from trained volunteers. And it's free!
Van Buren County Hospital is a counseling site and offers a free counselor to help Iowans make informed decisions about Medicare and other Medicare-related health coverage. Counselors can also help with Part D pharmacy coverage.
Medicare is a good start to maintaining health care coverage, but it's just a start. SHIIP can help you sort through dozens of supplemental coverage plans.
Call 319-293-3171 ext 1350 to make an appointment to discuss your choices.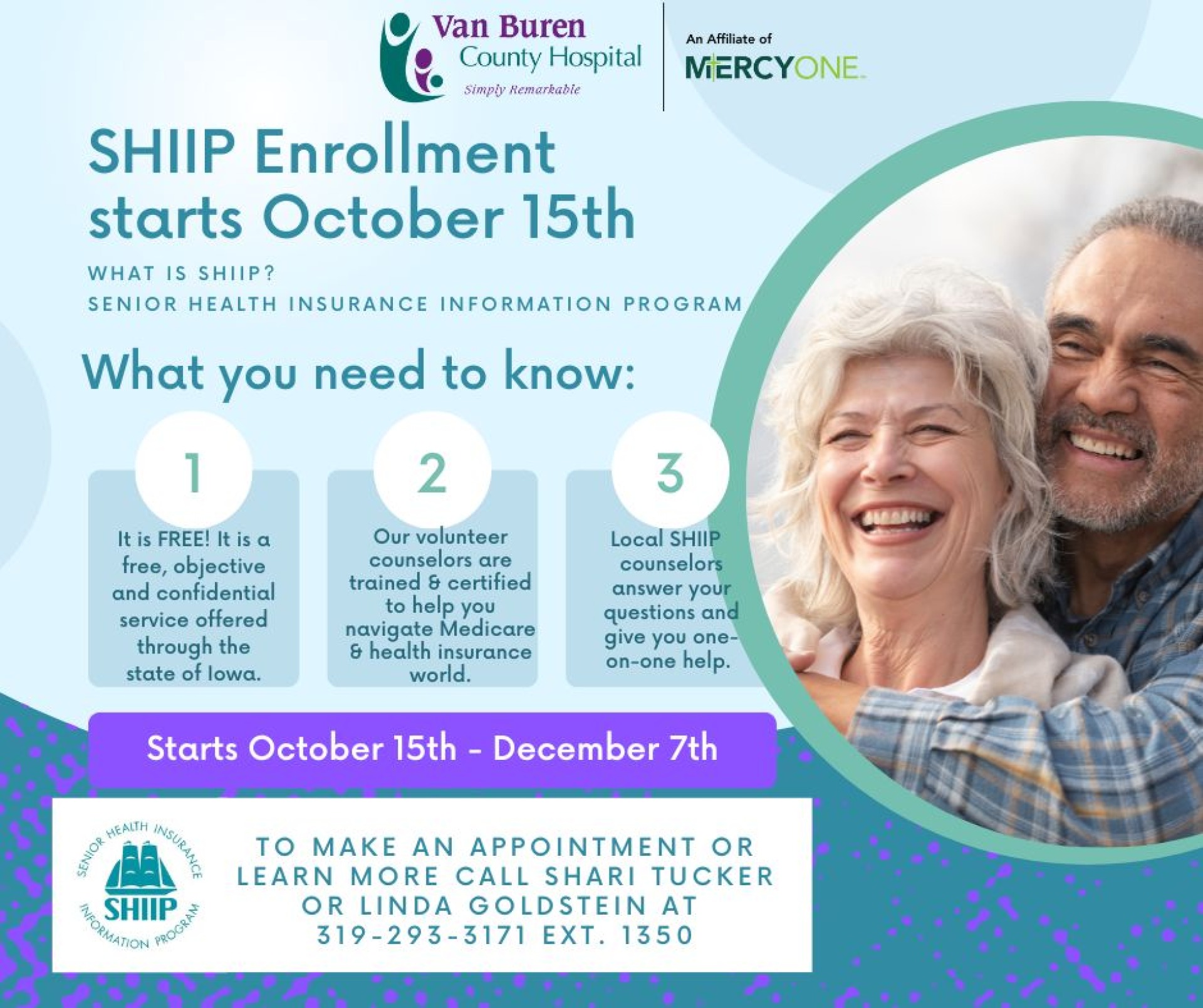 Fraud
It has been brought to our attention that there are a couple of different scams happening right now. Please be aware.
Scam #1
Patients are receiving phone calls requesting their tax information and the individual will file their taxes for them. It is best for patients to seek out tax advice from a trusted source.
Scam #2
Residents have been offered an alternative to traditional Medicare both via the phone and home visits. We ask that you please contact the VBCH SHIIP (Senior Health Insurance Information Program) volunteer prior to purchasing any of these products or plans.
We want to ensure you fully understand the products and are getting the best coverage for your needs. VBCH SHIIP volunteers do not sell insurance or represent any plans, they only provide information to our patients. You may reach a SHIIP volunteer by calling 319-293-8739.
Please warn your senior friends and family that this is scary stuff, either of these situations could end in identity theft or unwanted services and fees. Remind them of the benefits of living in a small community and the value of knowing one another. Encourage them to reach out to the hospital with questions at least then they know they will receive information they can trust or be guided to a more knowledgeable resource they can trust.