Van Buren County Hospital Hosts Innovative Training Opportunity for Staff
posted on 10/4/22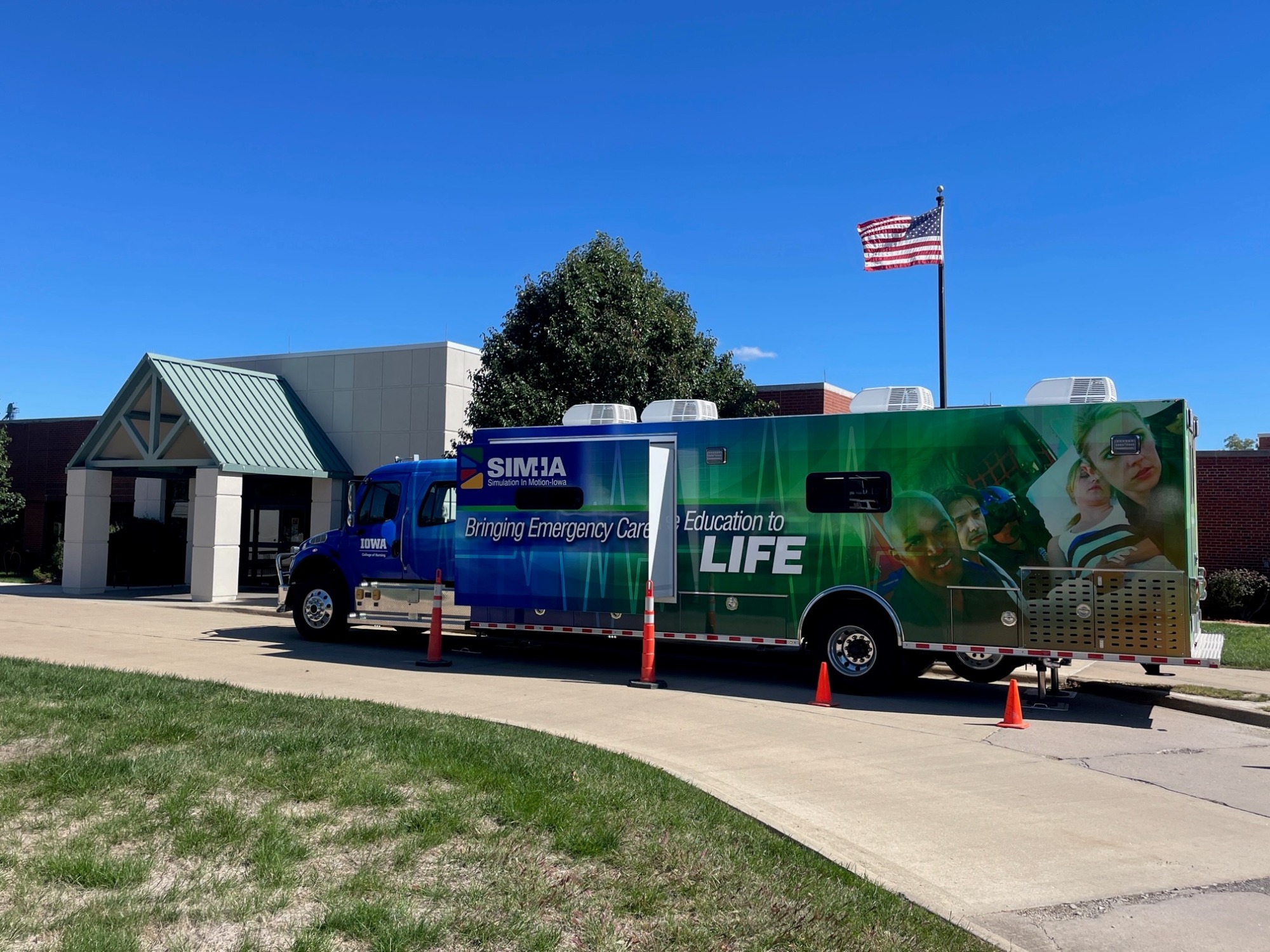 This truck brings real world simulations out into rural communities to offer them a level a training they may not otherwise receive. A 2019 needs assessment by researchers at the University of Iowa College of Nursing found EMS and hospital education in the state is at a critical juncture. While all respondents agreed about the importance for continued education for EMS and hospital providers, few had the funding to provide the education and training. Less than 40 percent of Iowa hospitals and EMS agencies are able to provide real world training for personal and this training is critical. SIM-IA offers a simulated emergency bay, ambulance box, four human patient simulators, multiple task trainers to simulate clinical procedural skills, video monitoring and recording for analysis and debriefing.
Van Buren County is the first critical access hospital in the area to have the truck on-site training their staff. Twenty-five staff members took advantage of the opportunity and received CEU's for their time. Staff from all areas were trained during these two days, not only ED staff and first responders, but CNA's, LPN's and other nursing and hospital staff took advantage of this opportunity. We plan to have them back again in December to do additional training modules and include staff who were unable to attend this week.
"The training was good and very life like. It was great that the patient could speak to you and be interactive. The SIM-IA staff was very nice and willing to help up when we needed. It was a really good training activity" noted VBCH staff member Lynndsey Moore.
"It's a nice opportunity to bring training equipment we wouldn't normally have access to. Staff that don't have an opportunity to use these skills very often get an opportunity to practice and keep their skills up" shared William Cline, VBCH Ambulance Manager.
SIM-IA will have three trucks in Iowa by the end of the year that will cover the east, central and west portions of the state. Trucks are based in Sioux City, Des Moines and Iowa City and are able to visit every county in Iowa. Currently, SIM-IA is funded for three years through generous support from the Leona M. and Harry B. Helmsley Charitable trust. It is administered by the University of Iowa College of Nursing.
For more information on SIM-IA or to donate to this opportunity you can find them on the web at sim-ia.uiowa.edu or on Facebook, Instagram and Twitter(Simulation.In.Motion.Iowa). For more information on Van Buren County Hospital and the services that they offer you can check them out at vbch.org or on Facebook and Instagram (VanBurenCountyHospital).
More News
posted 11/16/22
To the amazing NP's at VBCH!
posted 11/16/22
To our fantastic Operating Room Nurses....
posted 11/16/22
For the next two weeks the staff at VBCH will be collecting non-perishable food items.
posted 11/7/22
This week is Rad Tech (Radiologic Technology) Week.
posted 11/1/22
Van Buren County Hosptial staff held a costume contest on Monday, October 31st.