Congratulations- Improve Daily Award Recipient- Taija Hewett!
posted on 3/29/23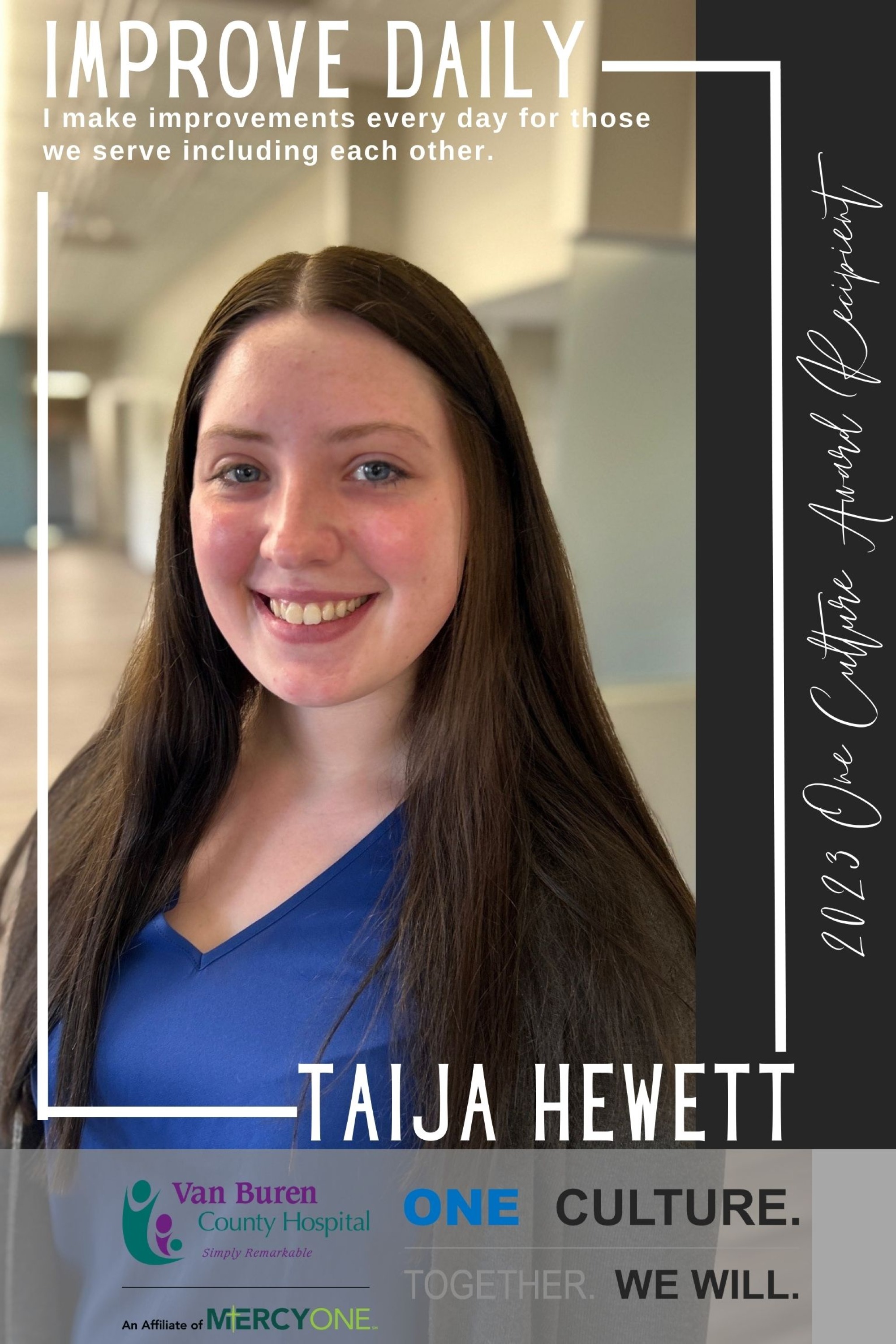 CONGRATULATIONS!
Five deserving VBCH staff members were recognized for their commitment to One Culture. This week we are sharing a little about each of our award recipients.
Improve Daily- Award Recipient- Taija Hewett
Taija works reception in our Keosauqua Clinic.
An excerpt from one of her nominations:
"Taija is a great example of someone who strives every day to be better. Since Taija first started with VBCH in April of 2022, she has grown personally as well as helped our clinic team grow. Each day, Taija asks what more can be done, what more she can do, and what more we can do as a team to help serve and care for our patients. Taija is always coming up with new ideas to help us grow by either bringing things up in huddles, being active with ideas in meetings and discussions, volunteering to own new projects and processes, or filling out CII forms. Taija shows a true desire to be a part of positive change in the clinic and VBCH as a whole!"
Congratulations Taija on your award.
More News
posted 12/5/23
Van Buren County Hospital & Medical Clinics would like to welcome Dianne Knapp, ARNP.
posted 11/5/23
Van Buren County Hospital would like to welcome Dr. Corey Harthoorn
posted 10/23/23
The American Cancer Society National Lung Cancer Roundtable (ACS NLCRT), American College of Radiology® (ACR), and Radiology Health Equity Coalition (RHEC) have partnered once again for the second annual National Lung Cancer Screening Day ("National LCS Day") on Saturday, November 11, 2023.
posted 9/15/23
DES MOINES REGISTER NAMES VAN BUREN COUNTY HOSPITAL & CLINICS A WINNER OF THE IOWA TOP WORKPLACES 2023 AWARD
posted 9/10/23
THANK YOU!